THE (R)EVOLUTIONARY POWER OF COMPASSION & KINDNESS
An exploration with impulses from Nipun Mehta

Sunday June 25th, 10:00-18:00, Haus Osterloh, Bayern (near Salzburg)
*** KAPAZITÄTSLIMIT ERREICHT – ANMELDUNG GERADE NICHT MÖGLICH, WIR SCHAUEN IN DEN NÄCHSTEN TAGEN, OB ES EINE LÖSUNG GIBT ***
"In a gentle way, you can shake the world," Gandhi once said. It's hard to believe that, when we feel disconnected. Instead, we fight for a bigger hammer – more money, more fame, more power.
Just a few months ago, in Economist magazine, the head of Gallup summarized the global status quo like this: "Negative emotions — the aggregate of stress, sadness, anger, worry and physical pain — reached a record high last year."
In a context of compounding catastrophes, and dystopian narratives in the media, how do we unleash our imagination and become co-creators of a different story? How do we respond to the personal, social and systemic gaps with a heart of compassion?
Gandhi's recommendation was counter-intuitive: if an intervention doesn't work, try a gentler one. If even that fails, go gentler still. Today's culture tends to equate gentle with soft, but it's hardly so. To be gentle is to be connected, and with that awareness, we can see more and do more.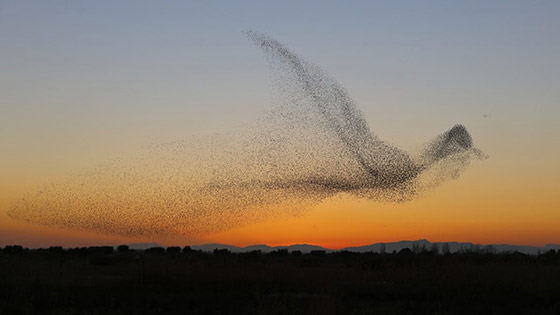 When our individual flow aligns with the collective flow, what might emerge in the wholeness of our connection? Like a murmuration of starlings, what innovations might we unlock if we are able to come together with heart of service?
---
In this gathering, we aim to open our minds and hearts to the transformative power of compassion and kindness.  We will engage with personal practices, hear from inspiring speakers, interact with each other and collectively cite patterns of positive deviance that we are seeing in local communities, businesses and even politics around the globe — and "heartstorm" how we might amplify the presence of that force in today's world.
You are invited to join Nipun Mehta and around 70 other changemakers in this interactive exploration. We will be kindly hosted by Verein für Achtsamkeit in Osterloh e.V and facilitated by Martin Kirchner and Johannes Narbeshuber .
Let's meet and connect with pioneers and changemakers from Servicespace, Pioneers of Change, Mindful Leadership Institut, and the Mindful Revolution. Let's weave threads of collaboration and sow seeds of friendship. Let's celebrate the beauty of life.
"Being the change … changes the being!" – Nipun Mehta
This event will be held in english language.
Registration Closed – Max. Capacity Reached – SORRY!
Nipun Mehta

Nipun Mehta is the founder of ServiceSpace, a global community at the intersection of technology, volunteerism and gift-economy. Nipun has catalyzed a global social movement of community builders grounded in their localities and rooted in practices for cultivating love, nonviolence, selfless service, and compassion. The ecosystem has reached millions, attracted thousands of volunteers, and mushroomed into numerous community-based service projects as well as inspiring content portals. ServiceSpace harnesses the collective power of networks and our deeper interconnectedness to create a distributed social movement founded on small, local individual acts of kindness, generosity and service that ignite shifts in individual and collective consciousness. Nipun was honored as an "unsung hero of compassion" by the Dalai Lama, not long before former U.S. President Obama appointed him to a council for addressing poverty and inequality in the US. Yet the core of what strikes anyone who meets him is the way his life is an attempt to bring smiles in the world and silence in his heart: "I want to live simply, love purely, and give fearlessly. That's me."
nipun.servicespace.org  www.servicespace.org www.karunanews.org
Einblick in unseren letzten "Tag mit Nipun" in Wien im Nov. 2022
Nipun beim Pioneers of Change Online Summit '23
Nipun beim Pioneers of Change Online Summit '19
This event is offered in cooperation with our partners: